Collaborative Excellence: Industry Giants Join Forces to Dominate the Perfume Industry
Givaudan expert shares the challenges faced in the competitive world of perfumery, and reveals how to meet the growing global demand for fragrances.
Whether you see perfumery as an art or as a science, the fragrance market has become a highly lucrative and competitive industry, comprising of many international and regional competitors. The fragrance industry has been estimated to reach 99.2 billion by 2031.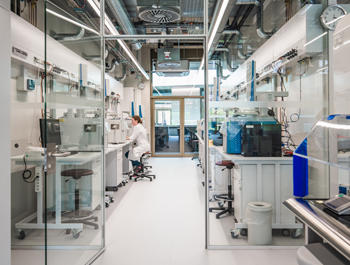 Perfumes can be defined as substances that emit and diffuse a fragrant odor, consisting of a mixture of aromatic chemicals and essential oils. Perfume is no longer just a luxury item but is now frequently used within many other personal care products. Many cosmetic companies incorporate perfumes into their products to ensure the end-consumer feels good. In this exclusive SelectScience interview, we speak with Dr. Andreas Muheim, head of research information systems at Givaudan, to find out more about this evolving industry and how his longstanding relationship with PerkinElmer Informatics has helped his company modernize their current processes and inventory to facilitate rapid and effective data capture. Muheim reveals how the solutions offered by PerkinElmer Informatics have enabled his scientists to save precious time to focus on what really matters in the lab. Muheim also discusses how he overcame the many setbacks associated with creating world-leading fragrancies and outlines his hopes for the future.
The science and art behind perfumery
As head of research information systems, Muheim leads a team of expert researchers that are working hard to discover, invest, and create new perfume ingredients. "Our new ingredients are patented, so they are exclusive for our Givaudan perfumers. The better these ingredients are, the more competitive our perfumes are in the marketplace," says Muheim. 
Givaudan is a Swiss multinational manufacturer of flavors, fragrances, and active cosmetic ingredients, which has been acknowledged as the world's largest company in the industry, working alongside some of the most prestigious luxury brands. "Consumers or customers cannot directly buy from Givaudan. We're in the business-to-business area, and our customers are the large food and consumer goods companies. Therefore, we sell our fragrances directly to these large consumer companies," explains Muheim. 
These consumers incorporate the ingredients from Givaudan into their own products, whether that be fragrances or personal care products, such as face creams, deodorants, and laundry products, among others. "Givaudan is the biggest player in the flavors and fragrances arena. We have a global presence, along with technology and creation rights. We also have the best talents in the industry, which guarantees a regular flow of innovation to our customers," says Muheim. "Today, we face many challenges for seeking new ingredients, because if we want to bring a new ingredient to the market, it needs to be sustainable, renewable, biodegradable, environmentally friendly, and ideally carbon neutral."

Joining hands with industry giants
For Givaudan to continue to innovate and set trends with new and improved flavors and fragrancies, it collaborates with PerkinElmer Informatics. "Givaudan was one PerkinElmer Informatics' first European customers. Now, 20 years on, we still have an ongoing relationship with them. We started with chemical registration, which soon extended to the whole software suite that PerkinElmer offers," explains Muheim. This long-lasting relationship between Givaudan and PerkinElmer Informatics has been invaluable in helping tackle certain business obstacles. 
"One of our challenges is that we have an extremely broad scientific community. The needs of our scientific community are very diverse and sometimes not complementary. We have scientists working within discovery and process chemistry, as well as microbiology, including molecular biologists, fermentation specialists, and sensory scientists," shares Muheim. "Only a few years ago, Givaudan started to modernize its scientific applications, which is where the Signals Notebook from PerkinElmer Informatics began to play a central role in our business." The Signals Notebook is defined as a future-proof cloud native electronic notebook solution. This solution has been designed for those working within a range of scientific disciplines, including biology, chemistry, and formulations. Signals  Notebook enables users to improve productivity and data transparency through enhanced collaboration, workflows, and automation. 
"The big obstacle for us is being able to modernize our inventory, which includes ordering chemicals, barcoding, label printing, updating data, tracking locations, and shipping. It's a complex workflow, and we started to modernize this by bringing it into the Signals Notebook platform," says Muheim. "What I like is that it is easy to configure to the specific needs of our users, which also helps to structure our data. The application programming interface (API) helps us retrieve important data in a structured way and then combine it with all the other data we have."
Speaking directly about his close relationship with PerkinElmer Informatics, Muheim explains: "The Signals Notebook has already built a strong foundation for our scientists to capture basic experimental data that are produced in the labs, this is how PerkinElmer Informatics has really helped us." In addition to the notebook, Muheim and his team of experts also use ChemDraw®, a software solution aimed at chemists to transform chemical drawings into chemical knowledge by facilitating the management, reporting, and presenting of chemistry research. "Our chemists enjoy it. It's amazing how it has advanced over the years since we started," states Muheim.
Muheim continued by explaining how he uses the TIBCO® Spotfire®, an advanced analytics platform which enables scientists to explore their data freely: "TIBCO Spotfire is a great tool to complement and visualize our data. Today, we still underutilize this visualization tool and use it only in specific cases. The overall goal is to use TIBCO Spotfire more and more in our organization."
Increase lab efficiency for better results
"One goal of ours is that we want to save time. Our scientists should spend their time conducting experiments, rather than waste time on capturing data, and we must use technology that supports them," Muheim shares. "The technology must be geared toward scientists capturing data. Our chemists and scientists use this data to plan their upcoming experiments." Muheim is hopeful that he will soon be able to apply machine learning to his data to further guide and help his scientists become more efficient in their work. "Our scientists all love speed and the power of searching and exploring the data. As most of the scientific data is created in the lab, the Signals Notebook plays a key role in capturing our data," Muheim concludes.