SIGNALS NOTEBOOK
Powerful cloud-native Electronic Laboratory Notebook for multidisciplinary collaboration and scientifically intelligent data management.

Try Signals Notebook!
Achieve gains in scientific productivity and creativity with Signals Notebook, the secure cloud-native electronic lab notebook (ELN) for chemistry, biology, research, and formulations. From increased collaboration to securely accessible data, Signals Notebooks accelerates R&D.
Built from 20 years of knowledge, it's the one ELN powered by ChemDraw and Spotfire® -- creating a powerful solution for all your data management needs.
Work intuitively in an easy-to-use ELN
Capture, organize and customize your data in a modern, user friendly Interface
Access data anytime, anywhere, on any device from a secure cloud application
Search millions of experiments across many projects quickly and efficiently
Collaborate and share insights with colleagues in a permission managed electronic notebook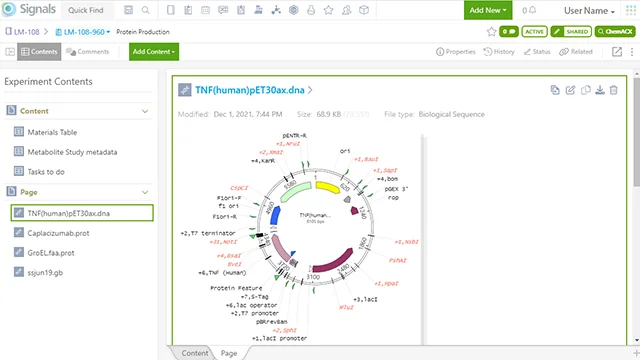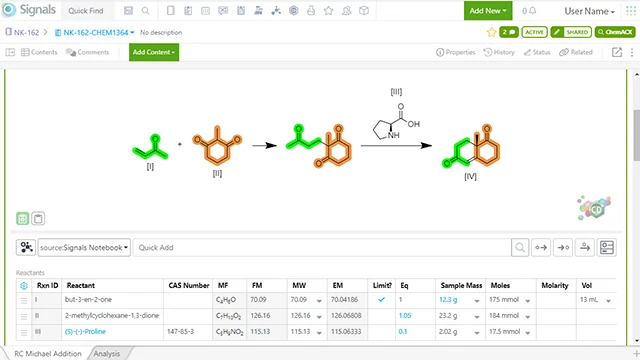 Work securely in a permissions-managed ELN
Supports Authentication-Signature approvals and controlled data access
Control- Lock-down unchangeable worksheets
GxP Validated Environment supported
Work efficiently in scientifically intelligent ELN
Full Microsoft® Office Integration- Use familiar tools within Signals Notebook, featuring Word, Excel, and PowerPoint active integration
Data integration- Easily drag and drop all data types into Signals Notebook
Integration with 3rd-party applications- RESTful APIs enable easy software integration and data transfer to other applications used in your research
Inventory Compound Registration System- Keep track of compounds with Continuous Barcode inventory and registration support
Material Request- Create sharable material libraries to support your workflows
Search Inventory for Materials- Search for similar, exact, substructure; know when to order/reorder
Access Material Safety Data Sheets- Incorporate and access safety info into your protocols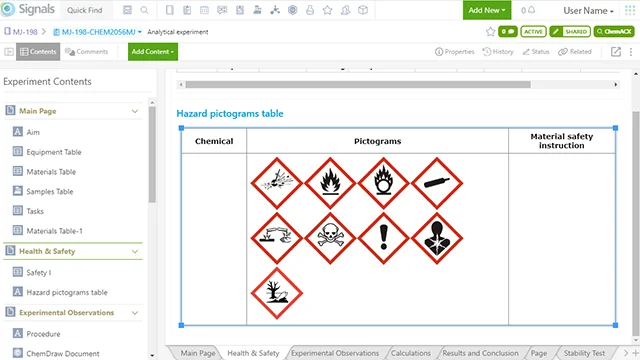 Collaborate across chemistry and biology
Signals Notebook- Use Cases from Your Industry Peers
Signals Notebook Continuously Improving with your input!
The Need for Speed
Signals Notebook is built on the same architecture as scalable, high speed sites, such as Twitter and Amazon. It scales elastically and it's as fast as you need it to be. No more time lost waiting for search results. No more counting the seconds to get to a different part of your experiment. Signals Notebook gets you there in sub-seconds.
Check out our latest Signals Notebook Quarterly Connect
Signals Notebook Features and Solutions Overview.
Revvity Signals Enterprise Scientific Research Solutions.
Always Improving
Signals Notebook is continuously improving with updates every 4-6 weeks. New features are automatically available to turbo-charge R&D workflows and drive informed decisions by optimizing the reuse of data. No downloads. No IT work. With Signals Notebook, you'll get the most advanced end-to-end scientific workflow solutions for enhanced collaboration and data management.