Spotfire® Quarterly Connect+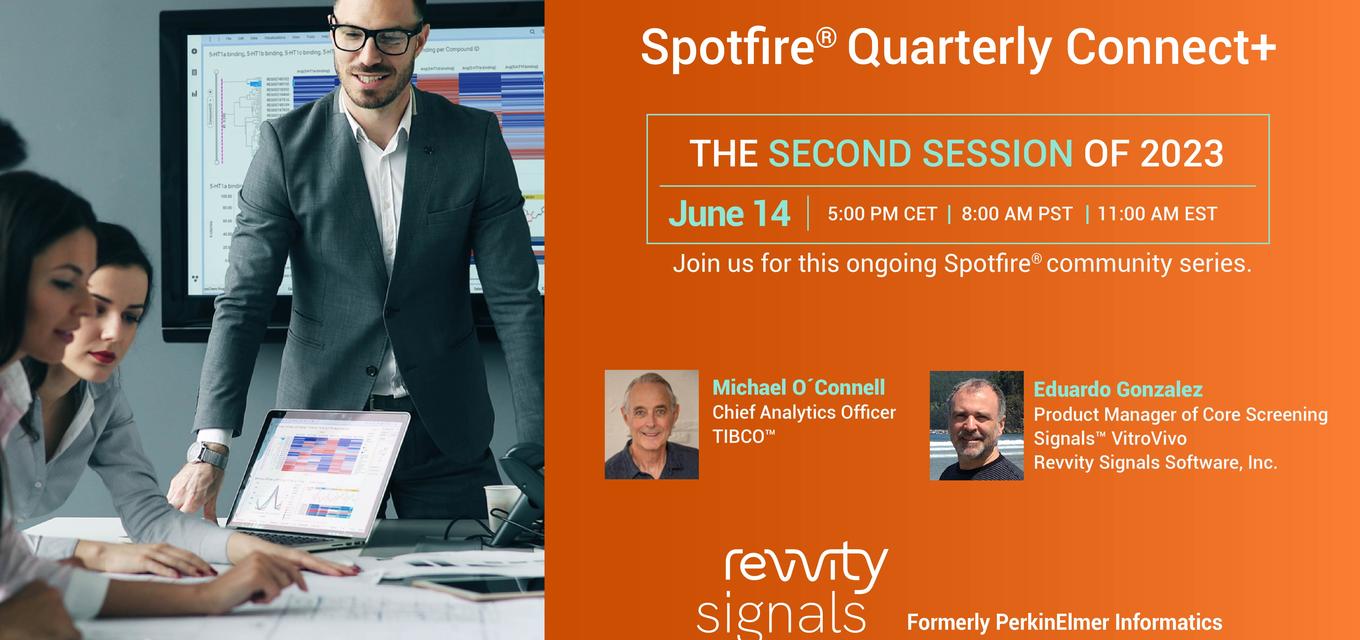 Did you ever wonder why the Spotfire® Quarterly Connect+ has a plus symbol? The plus symbol in the Spotfire® Quarterly Connect+ title represents the added value you'll receive by joining us for this exclusive event. It signifies that we're not only showcasing the power of Spotfire® but will also spotlight Revvity Signals Software, Inc. products built on Spotfire®, including Signals™ VitroVivo, Signals™ Inventa, and Lead Discovery Premium.
In this Spotfire® Quarterly Connect+ you will learn how:
          The world of analytics and data science is breaking new ground with advances in NLP, LLMs, machine learning and visual analytics. This session covers recent Spotfire® developments, combining Spotfire, Python and R with interactive visual analytics - for deriving insights and taking action. Spotfire Data Functions, Mods and Actions are highlighted with hands-on examples.
          In addition to what's new in Spotfire, you will get a chance to gain a deeper understanding of the challenges of Cell Painting and how Signals™ Image Artist and Signals™ VitroVivo can facilitate data analysis and interpretation.
So, if you're looking to enhance your knowledge and accelerate your data-driven success, the Spotfire® Quarterly Connect+ is the event for you. Join us now and unlock the power of the plus!
Speakers:
• Michael O´Connell - Chief Analytics Officer, TIBCO™
• Eduardo Gonzalez - Product Manager of Core Screening Signals™ VitroVivo, Revvity Signals Software, Inc.
Agenda:
1. New Frontiers in Visual Analytics with Spotfire®
2. Informatics Value and Challenges for Cell Painting Data Analysis and Interpretation
REGISTER NOW: https://register.gotowebinar.com/register/5463121863368890975