Promoting EHS and Boosting Sustainability through Lab Inventory Management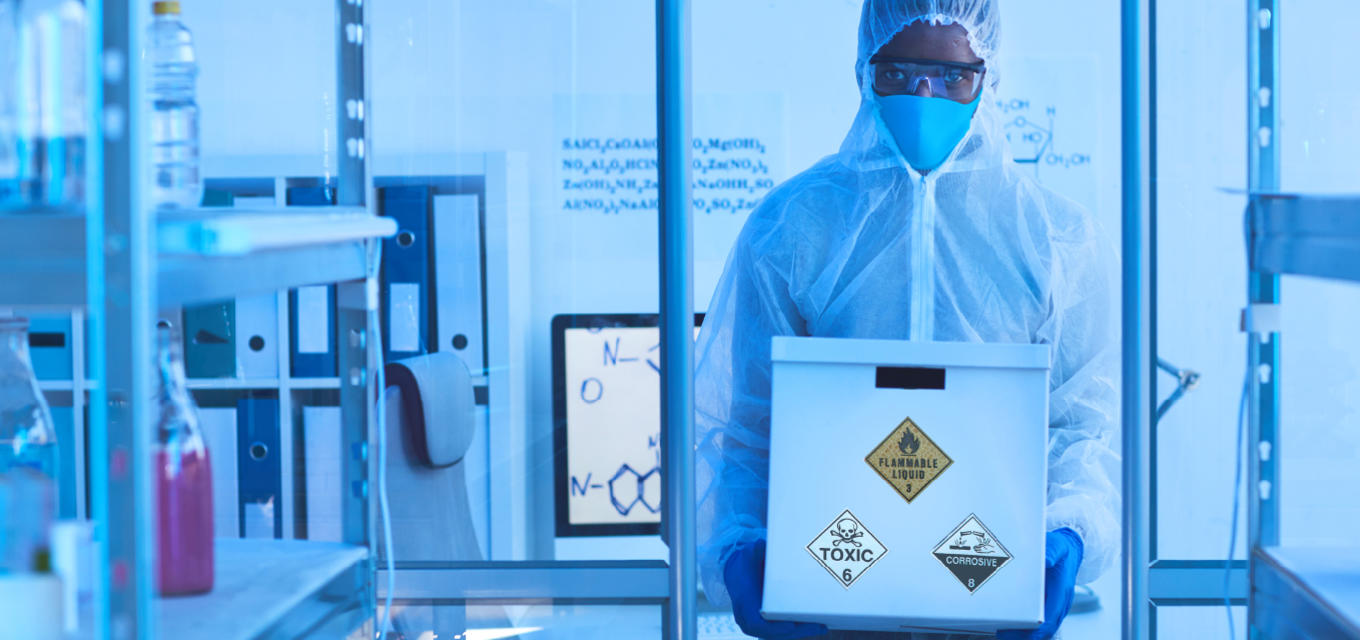 Inventory management is often a time-consuming, onerous process, and this can be magnified in laboratories where reagents and consumables are used by numerous scientists and staff. These tasks are further complicated by a growing need to optimize orders – both to avoid the excess expense of discarded chemicals and enhance sustainability to meet your organizational Environmental and Social Governance (ESG) objectives. An additional complexity with lab inventory is the need for safety compliance and exposure minimization.
Using Inventory to Ensure Safe Lab Practices and Sustainability
Laboratory inventory management is perfectly suited to Environment, Health and Safety (EHS) practices, as well as the growing movement towards sustainability and green chemistry (ESG – Environmental, Social and Governance) practices.
From a safety perspective, knowing where supplies are actually stored matters. An inventory system with extensive functionality can also guide your team in knowing:
Where items can be stored
How items can be stored
What can be stored together
There are other safety considerations that apply to your lab. In the event of an accident, for instance, it is critical to understand what is on-site and where it is located as part of an emergency response plan. You also need to think about exposure limits and rates (COSHH). Material storage conditions can be complex. An accurate inventory system can help proactively identify and avoid problematic storage conditions.
Meeting sustainability objectives translates into buying alternative chemicals or reagents which have a reduced environmental impact. But your lab can meet sustainability objectives in other ways, as well. Optimizing chemical quantities can be highly cost-effective, as disposal costs for excess, unused quantities can sometimes exceed the purchase price.
Signals Notebook inventory capabilities could be the answer to your organization's EHS and ESG objectives, as well as a solution for ongoing supply chain uncertainty.
Keeping a Tight Leash on Inventory to Maintain Adequate Stocks
Inventory management has taken on heightened importance in the wake of the supply chain challenges which emerged during the pandemic and continues today. The combination of spikes in demand and shortages in supply have led most labs to adapt their practices and necessitate larger safety stocks and earlier reorder levels.
Before the pandemic, supply chains offered significantly greater flexibility. Labs and manufacturers who failed to properly calculate the need for raw materials, reagents, and consumables were able to rush orders – though at some expense. Today, faced with shortages and uncertain lead times, that same nonchalant approach can result in delayed experiments, and manufacturing capacity limitations. But just as important as ensuring adequate supply is avoiding maintaining excessive stock, given the higher costs (and necessary infrastructure) of carrying inventory.
The combination of a comprehensive inventory management system and the implementation of inventory management best practices among scientists can help calibrate appropriate stock levels and enhance management of the ebbs and flows of supply chain issues.
Building Inventory Management into Signals Notebook
With inventory management and supply chain challenges growing increasingly complex, this is a great time to consider using the Signals Notebook built-in inventory capabilities, which provide extensive functionality and flexibility. It delivers better tools to increase productivity, lowers costs and improves the accuracy of information available at your scientists' fingertips.
Inventory Integration
Signals Inventory is integrated with the daily workflows of scientists, delivering added flexibility. This integration is critically important to ensuring the accuracy (and thus the utility) of inventory, as users don't have to leave the application to access or modify inventory-dependent materials.
In fact, users can update the amounts of materials used in an experiment or workflow, link containers, materials or samples directly into the plate feature inside an experiment, and access data directly from PubChem for reagents or view any Materials Library with public access data from PubChem via a CAS number.
Inventory's location capabilities are also extensive. There are no limits to 'locations within locations.' Each location can have "slots," or be formatted as a grid or table to hold containers. Labs have the ability to create as many types of locations and containers as are needed.
Ultimate Control with Label Flexibility
Signals Inventory provides your team with typical inventory features and functions, such as barcodes and containers. Barcodes are vital for labs seeking to maintain accurate inventories. Signals Notebook Inventory's extensive label flexibility allows you to provide unique barcodes by default, or businesses can use pre-printed barcodes.
Integration with ChemACX
Integrating Signals Notebook Inventory with ChemACX automates data collection, providing accurate supplier information which includes pack size, purity and price. The Revvity Signals' Available Chemicals Exchange (ChemACX) is a robust database providing a unified, up-to-date, structure searchable source of more than 23 million substances and 43 million products from 780 suppliers worldwide – including large suppliers such as Sigma Aldrich, Fisher Scientific, Acros and TCI America, as well as many smaller specialized niche suppliers.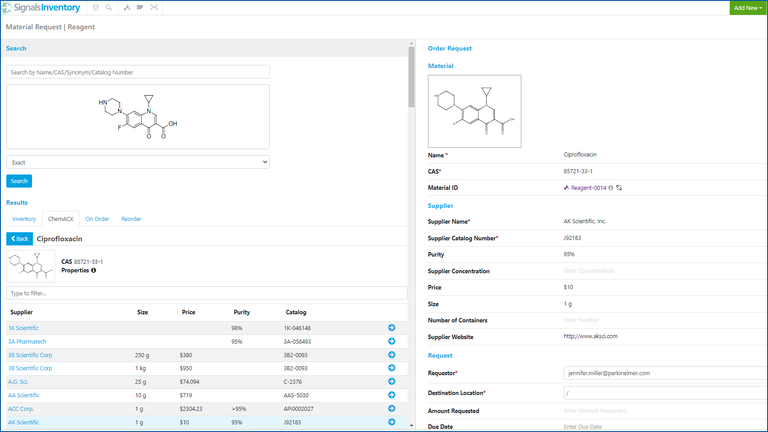 Put Inventory to Work for Your Lab
Access to accurate, up-to-date information is vital to effective inventory management. Signals Notebook Inventory can help your lab lower costs and raise productivity by giving you the insights you need to assess – and improve – inventory performance.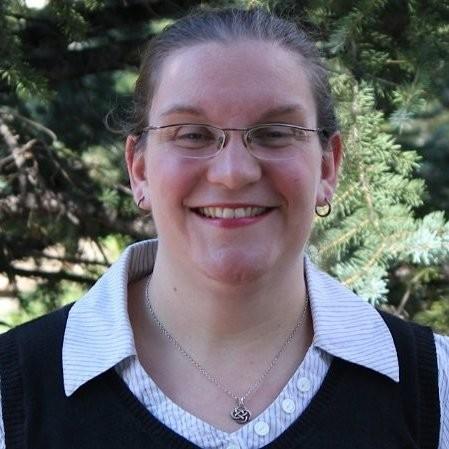 Jennifer Miller
Senior Product Manager
Jennifer is a Senior Product Manager at Revvity Signals Software and has responsibility for Signals Notebook Inventory, Materials and Signals Suite. Prior to Revvity Signals she worked in the in the pharmaceutical industry for over 15 years in the development of small molecule drugs for cancer and inflammation. She holds a degree in in Molecular, Cellular and Developmental Biology.