Signals Research Suite: Complete, Unified SaaS Software Supports the Make-Test-Decide Lifecycle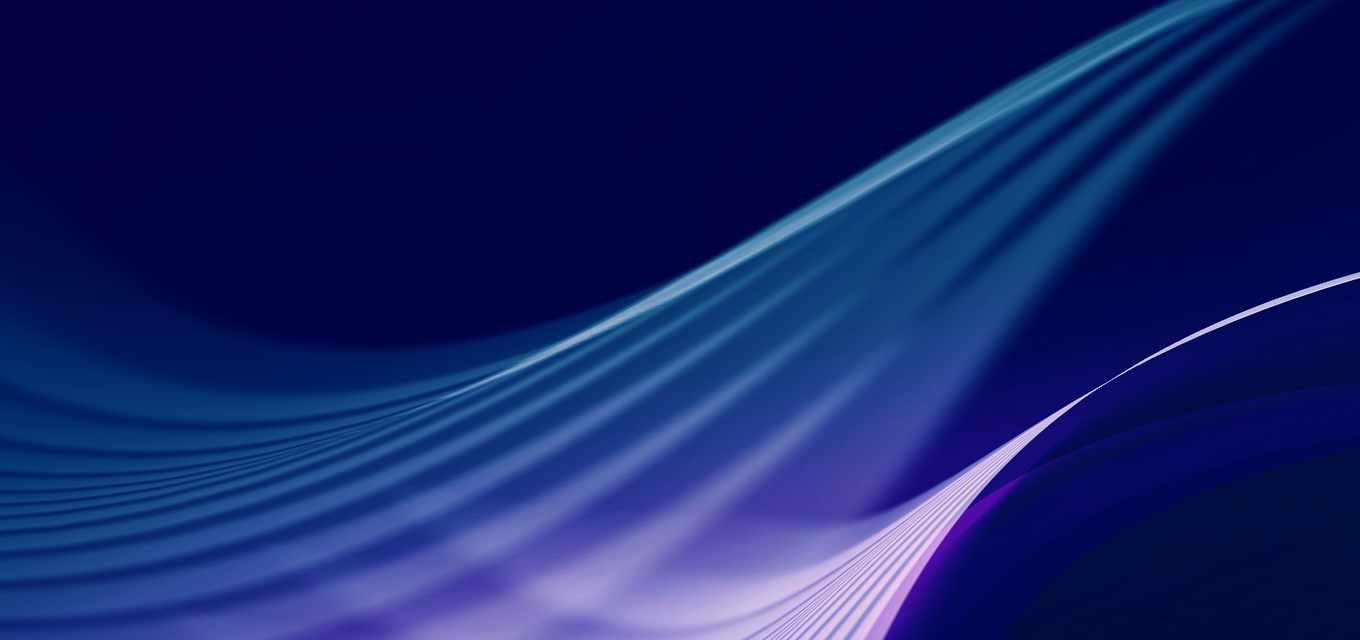 Variability across scientific research projects has resulted in siloed point solutions addressing individual use cases. But that approach has hampered the seamless collaboration and data sharing across biology, chemistry, and formulation that is critical to generate insights that drive drug development. Signals Research Suite is designed for researchers to collaborate from early research through early development, supporting the entire Make-Test-Decide lifecycle in a cloud-native, unified software platform.
Collaborate across all R&D disciplines; adapt dry and wet-lab work in real time
Control workflow configurations for every technique, modality, and data type
Make better tactical and strategic decisions based on analysis of more complete data
Support data integrity and regulatory compliance
Scale to meet business needs
Meet IT requirements for automatic updates, cloud security controls, SOC2, compliance
Built on the Signals Platform
Signals Research Suite leverages the unified Signals technology platform, including TIBCO Spotfire and ChemDraw, to power its data management, analytics and visualizations, and configurable workflows. The Suite's portal gives users secure single-login access to all applications, while administrators can manage their organizations' access/permission levels for all Suite users and groups. Once in the Suite, users find a streamlined, seamless interface and a help center housing data tutorials, training videos, and software release information.   

IT benefits from automatic updates, cloud security controls, and SOC2 compliance in a single SaaS installation. The Suite can be deployed in either a multi-tenant or private-cloud environment. Signals Research Suite scales up rapidly to address business needs.
The Suite, Figure 1, automates both routine tasks and workflows, increasing productivity across data capture, cataloging, analysis, and sharing while illuminating insights that drive innovation. Data integration and record-keeping rigor means data is findable, accessible, interoperable, and reproducible (FAIR), aiding in data integrity and regulatory compliance.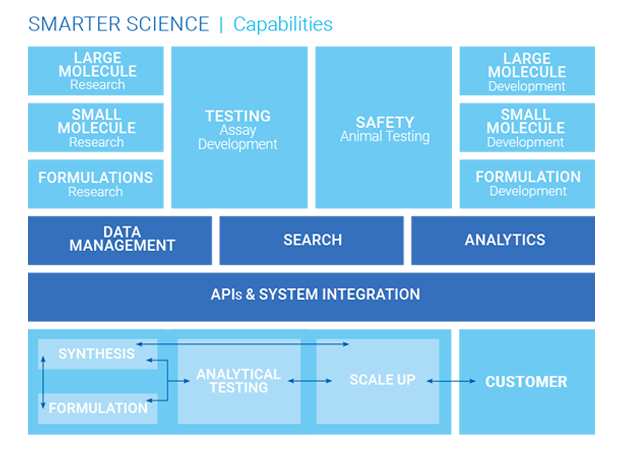 Figure 1:  Signals Research Suite unites all scientific program work in one platform, spanning from early research to in vitro testing and safety to early development. It provides workflows combining formulation and synthesis steps with analytical testing and scale up. Based on Revvity's modern Signals technology platform for data management, the Suite enables no-code search and shareable best-practice data analysis workflows.
Signals Research Suite
Powered by Revvity Signals technology platform, the Signals Research Suite includes a trio of scientifically intelligent, unified software applications that collectively address the end-to-end needs of research scientists. 
The Signals Research Suite includes unified software applications that collectively address the end-to-end needs of research scientists:
Signals Notebook – This user-friendly, cloud-based electronic lab notebook facilitates collaboration and data management to capture, organize, share, and explore data. Plan, perform, and document experiments to avoid duplication of work and to maximize insights into your wet-lab workflows. Signals Notebook is the only ELN integrated with ChemDraw®, the gold-standard chemical drawing and communication software. 
Signals VitroVivo – Leveraging TIBCO® Spotfire® for data analysis and visualization of all modalities, this application unites assay development, low- to ultrahigh-throughput production assays, high content screening, and in vivo studies, enabling users to search across all assay and screening data in a single solution. As a central data processing platform for all types of experiment workflows, Signals VitroVivo lets you parse instrument files, process data using automatable calculation templates, and capture results.
Signals Inventa - This next-generation data management system analyzes scientific results. Signals Inventa enables efficient access and analysis of all scientific results collected throughout the R&D life cycle. With all the chemical and biological analytic functionality of Revvity's Lead Discovery Premium, plus advanced query and data management capabilities, it helps users find and retrieve any test or assay result plus associated compound or biologic sequence information across experiments, projects, and departments.  Signals Inventa provides sub-second query responses across even the largest of databases. Scientists can easily transfer the relevant subsets of data into analytic dashboards without any programming, manual data-wrangling, or reformatting.
Suite users can work on use cases involving early and later-stage in vitro assays, cell line optimization, biologics process optimization, in vitro DMPK assays, animal pharmacokinetic studies, and late-stage animal efficacy and safety studies as well as for specialty chemicals and formulations development. Figure 2.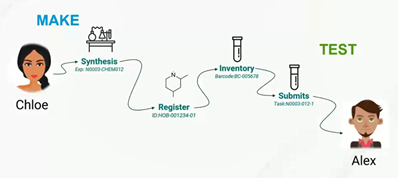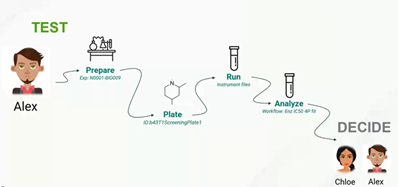 Figure 2:  A representative Make-Test-Decide research workflow, for data capture, processing, and decision-making in a single, integrated instance of Signals Research Suite. Only a complete, integrated solution can ensure a gapless flow throughout an entire research organization.
Key Capabilities
Define and manage data processing and calculation templates
Analyze results across experiments and studies and compare formulations and run details
Perform audit trails for configuration, material management, experiment and study execution
Collaborate internally and externally on study- and project-based access control models
Create and manage all lab protocols and recipes in one place
Automatically ingest instrument files, share parsing routines and data-handling workflows, and use normalizations and curve-fits
Mine data for both formulations and analytical endpoints to gain insight and compare performance
End-to-end data management and workflow support
Signals Research Suite is one data management and analysis solution serving the entire R&D Make-Test-Decide, Figure 3, lifecycle. It fully captures experiment data with transparency, connectivity, and interoperability for multidisciplinary collaboration. Users experience seamless workflows, lab automation, automatable instrument data processing, and more in an extensible solution for integration with internal and partner systems and processes.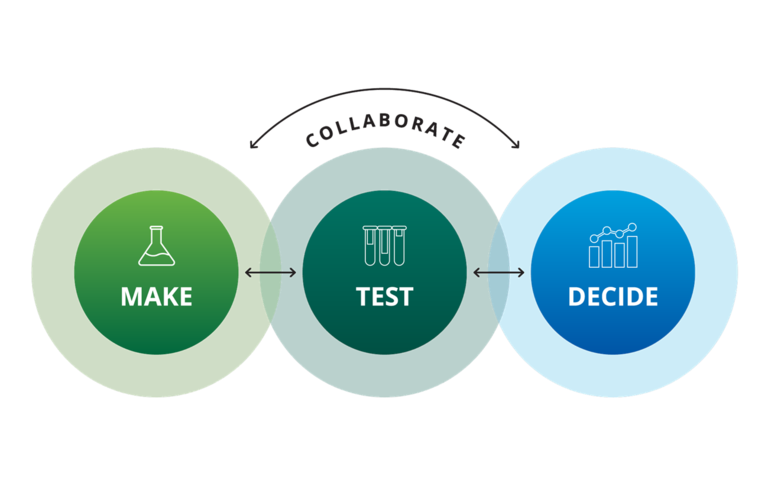 Figure 3: Make-Test-Decide innovation cycle used in product R&D.