Revvity Signals Unveiled at Bio-IT World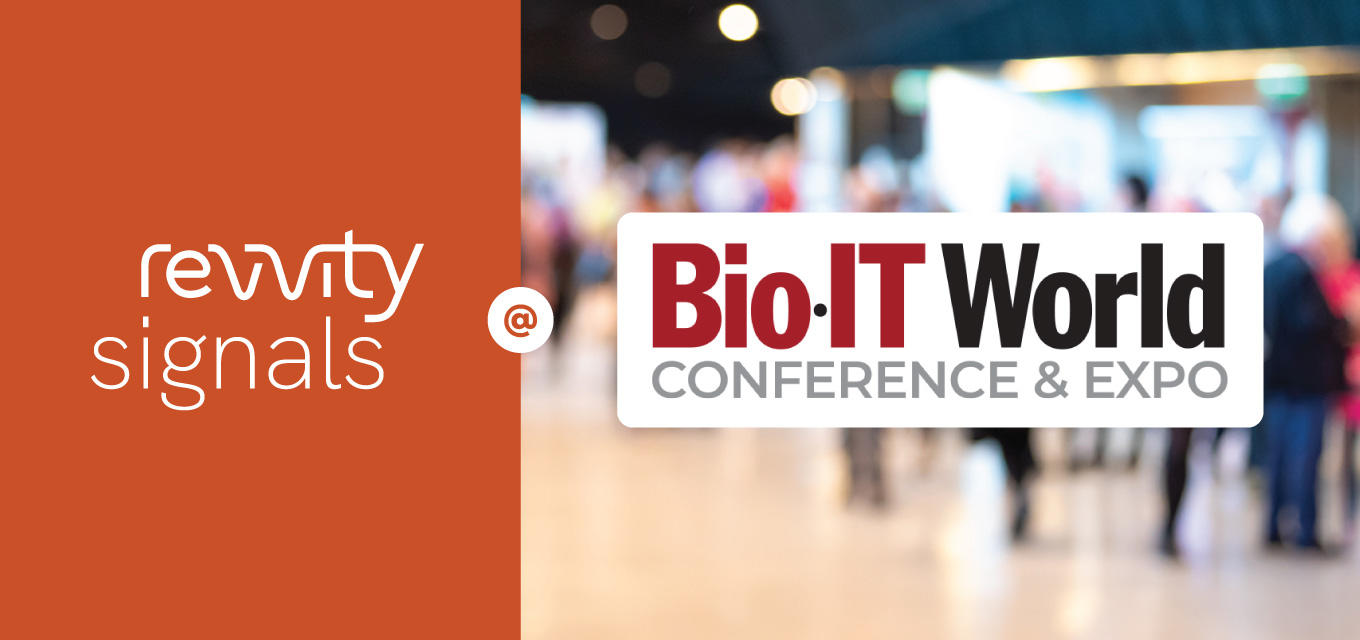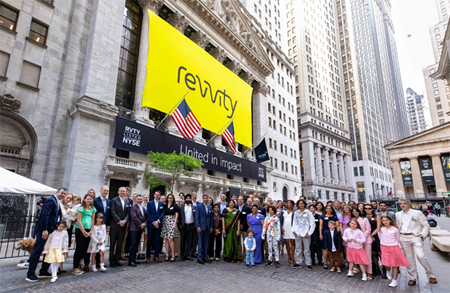 Bio-IT World (May 16-18, 2023) was an outstanding event. It was the first time since the start of the COVID-19 pandemic that we were able to meet in person. A common refrain we heard while talking to attendees was how great it was to finally be back in person, meeting face-to-face!
Bio-IT World was significant for our team in another way, as well: we proudly unveiled our new Revvity Signals brand. The unveiling began the morning of May 16 at the New York Stock Exchange as our CEO Prahlad Singh and the Revvity Executive Team launched Revvity as a new company on the exchange. The rollout continued at Bio-IT World.
We (formerly PerkinElmer Informatics) took advantage of this remarkable opportunity – the rebranding of our corporation – to shift from the generic label of 'informatics' and instead take the name of our flagship product line Signals.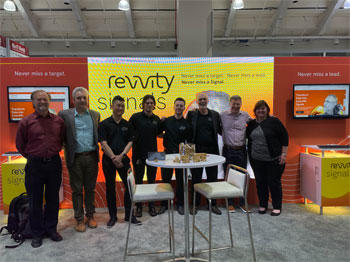 But First – What's Revvity?  
The origin of our new company name is a Latin-based contraction of the words 'Revolution' and 'Vita' (or life) together with the 'ty' for unity. It represents our commitment to revolutionizing life through developing technologies and solutions, from discovery to development, and diagnosis to cure.
Revvity Signals Software is a real game-changer in the scientific community, transforming data into scientific innovations. The Signals portfolio represents our commitment to empowering scientists across pharma, biotech, materials, specialty chemicals, and clinical disciplines to identify critical insights in data, share ideas seamlessly, and find information with ease. Over the coming days and months, you will see PerkinElmer Informatics transition to Revvity Signals, so stay tuned!
One thing that will not change, however, is our commitment to you, our customers – and to your success.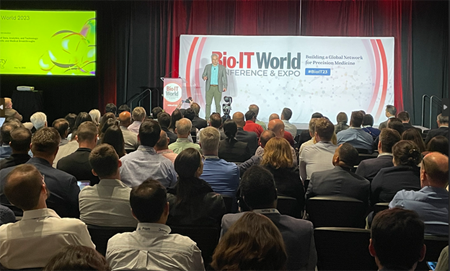 For Revvity Signals, Bio-IT World was not just about new company names, we also provided strong thought-leadership on the scientific program. And that is illustrated at the very beginning of the Bio-IT World program where our very own David Gosalvez, Executive Director of Science and Technology at Revvity Signals Software not only introduced our new company name, but also delivered the keynote introduction to a standing room only crowd.
David introduced Pfizer's Anastasia Christianson, VP of AI, ML, Analytics and Data, and Edward Cox, Head & General Manager, Digital Health & Medicines, who spoke about Pfizer's use of AI in drug discovery.
He provided context on the landscape of artificial intelligence in scientific research, stressing that we, as professionals in research informatics, need to be realistic about what AI can and cannot do. For example, he said that we are nowhere close to having ChatGPT do all the work for us. Instead, the AI tools available should be seen as narrow AI to serve dual purposes: taking some of the drudgery out of scientific research so that scientists can focus on science and help accelerate the exploration of permutations of various parameters involved in experiments. David's remarks were an excellent segue into Anastasia's and Edward's presentation.
In another scientific program presentation, Rachelle Bienstock, Senior Product Marketing Manager for Signals Notebook, moderated the Data Management track where two outstanding presentations were delivered by Revvity Signals customers: Stephen Brough, Scientific Leader, NCE Medicine Design Data Strategy at GSK Pharmaceuticals, and Kasif Hoda, Director of Research Informatics at Proteovant Therapeutics.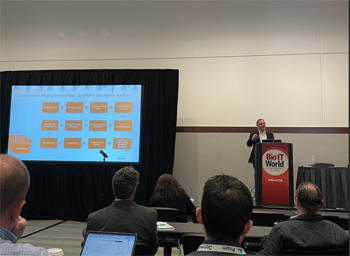 In Stephen's presentation, he discussed the tremendous analytics and visualization power that his team is realizing from Signals VitroVivo. His team conducts massive drug discovery screening projects where he finds that Signals VitroVivo is fast and flexible for GSK's needs. And for highly complex projects, he spoke highly of GSK's ability to leverage Signals VitroVivo's API to adapt the lab data management and analysis solution to perform anything GSK needs to do.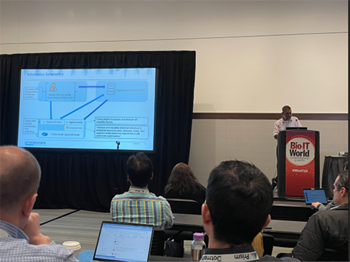 Kashif talked about how his organization was using the breadth of the Signals Research Suite – from Signals Notebook, Signals VitroVivo, Signals Inventa, to TIBCO Spotfire and Lead Discovery Premium – to power drug discovery in a new startup company. Because Proteovant Therapeutics, as a startup, was not burdened with legacy systems, Kashif was empowered to build a world class drug discovery platform to fuel his organization's drug discovery program.
Stephen and Kashif concluded their presentations by participating in a panel discussion where they compared and contrasted the challenges and opportunities for deploying advanced analytics and visualization solutions in both large and small drug discovery organizations.
The most impressive takeaway from this panel discussion was that it illustrated Signals Research Suite solutions are flexible enough to adapt to both smaller startup companies and very large organizations – and are powerful enough to meet the most demanding drug discovery screening challenges.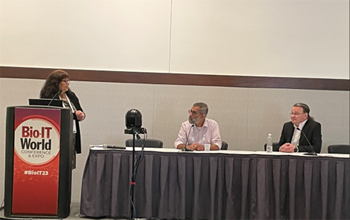 In the Data Science and Analytics Technologies track, Dan Weaver, Director of Product Portfolio at Revvity Signals, delivered a luncheon presentation where he discussed the challenges of using Oracle data warehouses to store instrument and experimental data.He highlighted how Signals Inventa's data models are easier to maintain, query, and scale. Dan proposed that as more organizations adopt Signals Inventa, it can serve as their 'secret weapon' in unifying vast amounts of data and can help accelerate decision-making in drug discovery operations.
As you can see from this small sampling of the presentations at Bio-IT World, Signals Research Suite provides a powerful set of capabilities to power drug discovery no matter the size of your organization.
The Revvity Signals Research Suite can play a significant role in expediting drug discovery. Contact us today to learn more.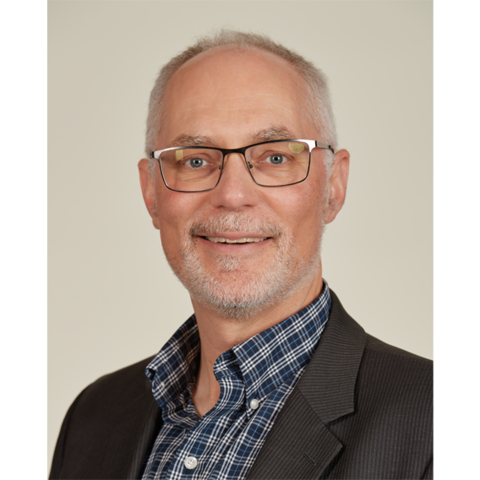 Chris Stumpf
Senior Principal Marketing Professional, Revvity Signals Software, Inc.
Chris Stumpf is a Senior Principal Marketing Professional responsible for Marketing Programs at Revvity Signals Software, Inc.  Chris has over 20 years of experience in the Analytical Instrumentation and Informatics industry spanning Pharmaceuticals & Life Sciences to Chemicals & Materials.  He has a Ph.D. in Analytical Chemistry and Mass Spectrometry from Purdue University.